CJ86 EMC armored Marine Power and Control Cable 0.6/1KV Applications:
This product is used in ships,petrol platforms and offshore buildings for power,light and control systems,usually used for fixed installation in most areas and open deck in ships.Design to meet requirements for improved EMC screening properties.If the cable is exposed to direct sun light protective covering or cable with black outer sheath is recommended.
CJ86 EMC armored Marine Power and Control Cable 0.6/1KV Constructions:
1.Conductor
Stranded copper wire 1.0mm2 to 10mm2 Class 2
Stranded copper wire 16mm2 to 240mm2 Class 5(Flexible)
2.Insulation
XLPE
3.Bedding
Separate tape
4.Screen
Copper tape,covering 100%
5.Amore
Copper wire braided,covering 90%
5.Sheath
Thermoplastic Polyolefine(SHF1),On requesting Thermosetting Polyolefine(SHF2)
standard colour black, other colours on request.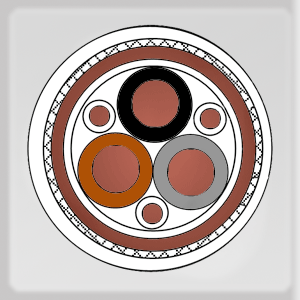 CJ86 EMC Armored Power and Control Cable Diagram
Applied Standards:
Design
IEC 60092-353
Conductor
IEC 60228 Class 2,Class 5
Insulation
IEC 60092-351
Sheath
IEC 60092-359
Flame-retardant
IEC 60332-1-2 -test for single insulated wire and cable
IEC 60332-3-22 -test for bunched wires and cables, category A
Halogen-free
IEC 60754 series
Smoke emission
IEC 61034 series
Transfer Impedance
IEC 61196-1 (typical value 26dB over 1m¦¸/m
at 100MHz [20m¦¸/m])
Service Conditions
1.Rated Voltage:AC 0,6/1kV (1,2kV)
DC 0,9/1,5kV (if voltage to earth does not exceed 0,9kV)
2.long time working temperature 90¡æ
3.Minimum recommended installation temperature -15 ¡ãC
Lowest operation temperature -40 ¡ãC
4.flexible cables for mobile devices,the other cables are fixed laying
cable bending radius while laying is as below
Cable Structure
Cable Outer Diameter
Minimum Bending Radius
Metal Braided Armored
6D
Non Armored
D¡Ü25
4D
D>25
6D
Certifications:
Our marine cable has been type approved by the following Classification Societies
DNV,BV,CCS,NK,ABS,LR,RS,RINA,GL


hisea marine cable certificates
We will provide you with the best quality, competitive prices and satisfactory service.
For more enquiries ,please contact freely at cable@hiseamarine.com
Contact with us now